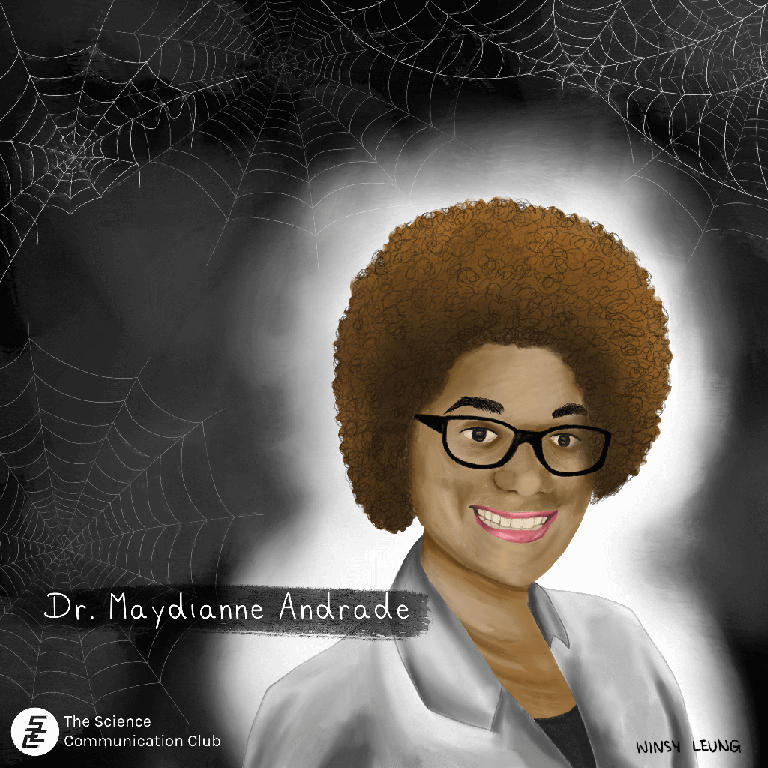 Written by Trisha Mahtani
Illustrated by Winsy Leung
---
Dr. Maydianne Andrade is an inspiring scientist who studies black widow spiders, a group of venomous spider species. Their venom contains a dangerous neurotoxin called latrotoxin that, while not fatal, can cause pain, cramps and vomiting in humans. While most of us would be nervous about working with these spiders, Dr. Andrade has been studying them since she obtained her Master of Science (M.Sc.) degree at the University of Toronto Mississauga.
Dr. Andrade's project focused on male Australian black widow spiders, or redback spiders (Latrodectus hasselti), sacrificing themselves to mate successfully with female spiders. However, black widow spiders are unique as they purposely try to get the female spider to cannibalize them during mating. While the males in other insects that have cannibalistic mating try to escape, male redback spiders actually perform a somersault to get closer to the female's mouth during mating to promote their cannibalization.
Dr. Andrade then completed her PhD at Cornell University in Neurobiology and behaviour, furthering her studies on cannibalistic spider mating. She currently has her own laboratory at the University of Scarborough (UTSC) since 2001, and her research is at the intersection of evolutionary biology and ecology. Her lab studies the effect of various ecological factors on the evolution of mating within black widow spider species. Dr. Andrade's lab has demonstrated that male spider body size does not correlate with vertical climbing speeds to reach mates, and that male spiders can find females who have not mated yet by chemicals, pheromones, on their webs. To perform laboratory experiments on these spiders, they have a designated area for spider growth and mating which house thousands of spiders at any given time. Dr. Andrade has received numerous awards for her research including the Canada Research Chair in Integrative Behavioural Ecology and the UTSC Principal's Research award.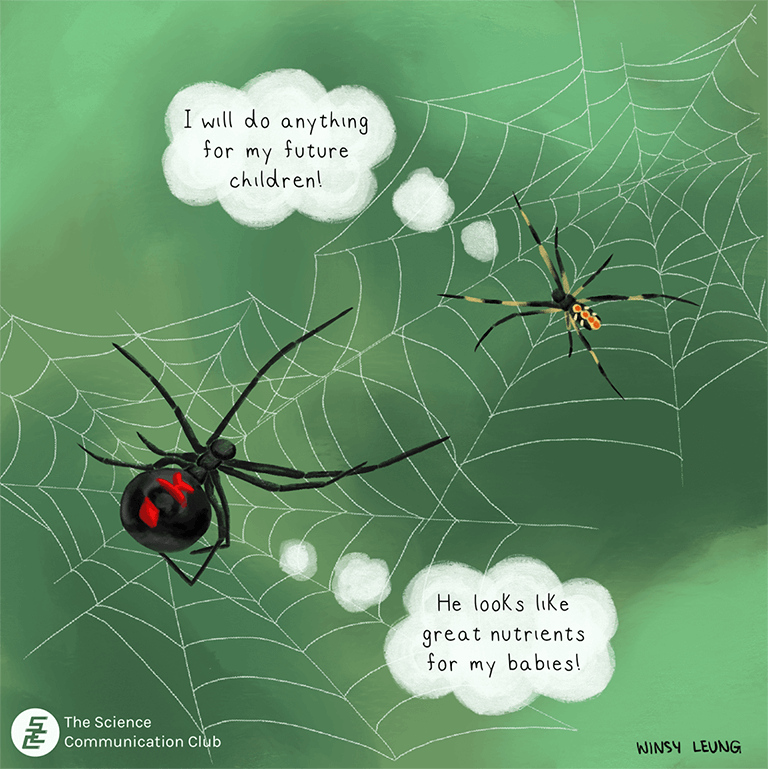 Alongside her research endeavours, Dr. Andrade is very active in promoting equity and diversity in the workplace. Dr. Andrade is a pioneer for bias training at the University of Toronto and won the Ludwik and Estelle Jus Memorial Human Rights Prize in 2019 for her efforts. Dr. Andrade was recognized for this work by the University of Toronto Scarborough, earning her the position of Vice Dean of Faculty Affairs and Equity. This was followed by her being a special advisor to the dean on inclusive recruitment and equity education. She is the founder and co-chair of the Toronto Initiative for Diversity and Excellence (TIDE), which educates groups at University of Toronto about unconscious biases, racism and sexism using research-based evidence. TIDE also provides resources and recommendations on improving the hiring and retention of diverse candidates. Dr. Andrade also co-founded and is the president of the Canadian Black Scientists Network (CBSN). CBSN held the first conference in Canada, in February 2022, to recognize excellent black scholars in the STEMM (science, technology, engineering, math, medicine) field drawing over 1500 attendees.
Dr. Andrade has also made a great impact through science outreach. She hosted a podcast during the pandemic to help people cope with the vast and unprecedented changes to our lives. She's been featured on Nova ScienceNow, The Nature of Things with David Suzuki and Quirks and Quarks. She has also been recognized by the Animal Behaviour Society for her contributions to research, as well as the American Academy of Arts and Sciences for advancing the public good. Dr. Maydianne Andrade has had a profound impact on research and education and continues to inspire new scientists with her efforts.
Sources:
Andrade, M. (n.d.). Maydianne Andrade. https://www.maydianne.com/
Animal Corner. (n.d.) Black Widow Spider. https://animalcorner.org/animals/black-widow-spider/
Battler, A. (2022, February 4). BE-STEMM: Conference highlighting Black excellence in sciences draws participants from across Canada. https://www.utoronto.ca/news/be-stemm-conference-highlighting-black-excellence-sciences-draws-participants-across-canada
Department of Biological Sciences, University of Toronto Scarborough. (n.d.). Maydianne Andrade. https://www.utsc.utoronto.ca/biosci/maydianne-andrade
Maydianne Andrade. (2022, February 12). In Wikipedia. https://en.wikipedia.org/w/index.php?title=Maydianne_Andrade&oldid=1071313045
Maydianne C. B. Andrade. https://cca-reports.ca/scientific-committee/maydianne-c-b-andrade/
Seftel, J. (2009, January). Profile: Maydianne Andrade. https://www.pbs.org/wgbh/nova/sciencenow/0402/03-spid-nf.html
Toronto Initiative for Diversity and Excellence. (2019). Toronto Initiative for Diversity and Excellence. https://www.toronto-tide.ca/
University of Toronto Scarborough (n.d.). Andrade Lab. https://www.utsc.utoronto.ca/labs/andrade/