Five Elements of a Sci-Comm Story
Saturday March 11 2023, 6:00 - 7:30 PM ET
This winter, the U of T Science Communication Club presents 5 Elements of a Sci-comm Story. This workshop will be led by Tyler Irving, a professional science communicator for more than a decade. Join us over zoom on March 11th from 6:00 - 7:30 PM ET to learn key principles on how to present your scientific research in articles in an accessible and efficient manner, in order to better connect with readers of all backgrounds!


NOTE: This event will be recorded and the link sent out to all registered individuals!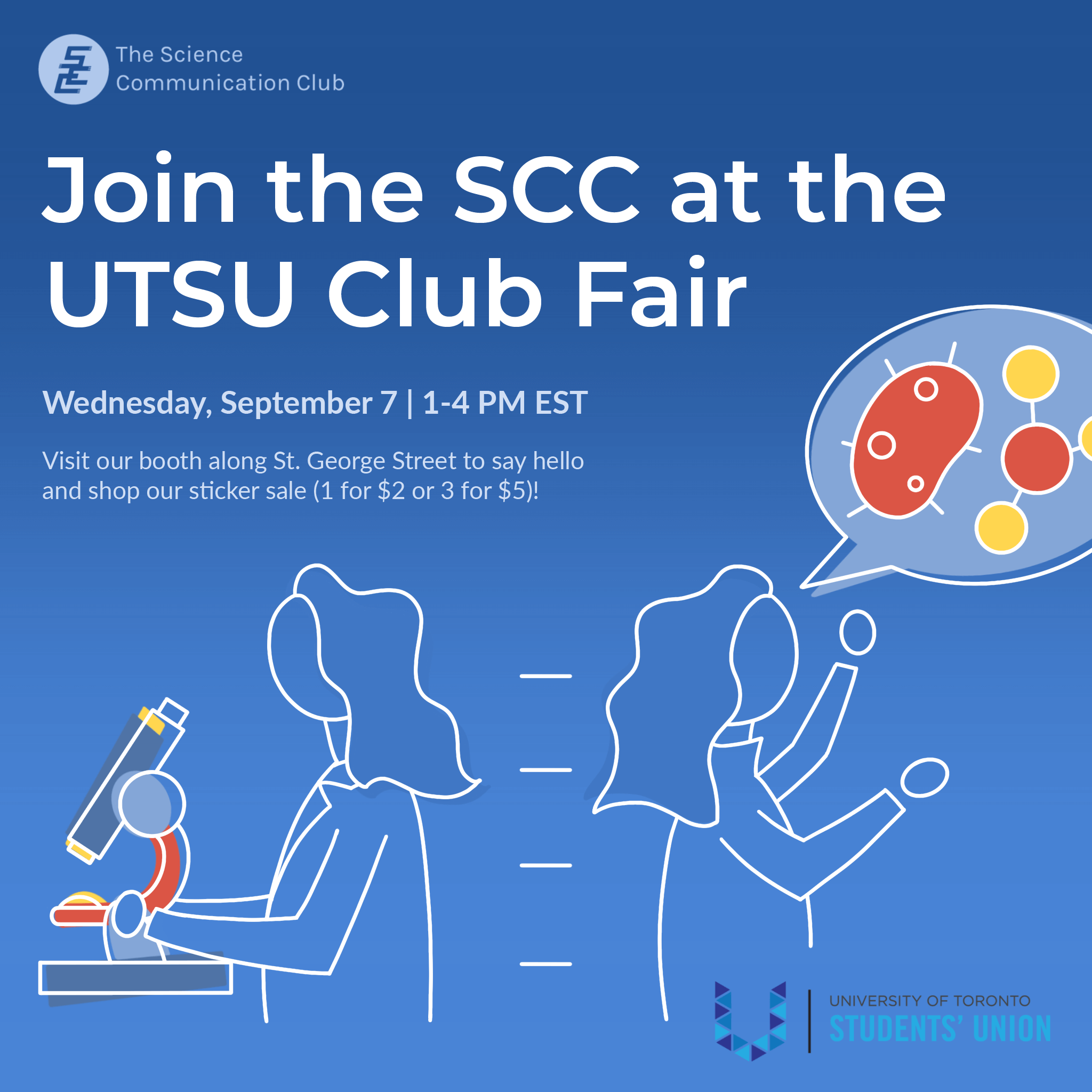 SCC @ UTSU Club Fair 2022
Wednesday September 7 2022 | 1:00 - 4:00 PM EST
Curious about what we do here at the UofT Science Communication Club? Visit our booth along St. George Street to say hello and shop our sticker sale (1 for $2 or 3 for $5)! ​
Anatomy of a Data Visualization: Telling Stories With Your Data​
Thursday May 5 2022, 6:00 - 8:00 PM ET
Data visualization is a powerful tool for telling meaningful stories with data. Designers Shay Saharan, Michie Wu and Amy Zhang from the Biomedical Communications (MScBMC) program at UofT will share with us the tools and concepts necessary for designing effective data visualizations.
Communicating Science to Skeptics
Friday November 19 2021, 6:00 - 8:00 PM ET
As science communicators, how can we better communicate credible information? This workshop will dive into best practices informed by research from Concordia University's Science Journalism Project and Projected Futures Science Journalism summer school. Attendees will come away from this event with unique methods, such as digital tools and hype-resistant criteria, to engage their audience - even the skeptics!
Featuring guest speakers Dr. David Secko, Cristina Sanza, Dr. Keroles Riad, Taylor Kann, and Jerika Sanderson.
Career Night in Science Communication
Thursday March 25 2021, 6:00 - 8:00PM ET
Hear from Shiz Aoki (BioRender), Dr. Neil Macpherson, Glendon Mellow (IN VIVO), Dr. Stephanie Almeida, Shelley Chen, and Allan Lasser (Massive Science) as they share their experiences and tips for navigating a career in industry. Join us afterwards for a Q&A and networking session to discover the opportunities emerging in science communication!
What is SciComm? Part 2: Career Journeys
Thursday November 19 2020, 6:00 - 7:30PM ET
Curious about research and career journeys in science communication? Come talk to students and scientists Dr. Yasmeen Mezil, Farah Qaiser, Tammy Lee and Amy Zhang as they share their stories and tips for this field.
What is SciComm? Part 1: Canadian Programs
Thursday October 8 2020, 6:00 - 8:00PM ET
Passionate about arts, writing and science? Hear from Concordia University, the University of British Columbia, Laurentian University, and the University of Toronto as they explore their science communication graduate programs.
Career Exploration in Science Communication
Thursday November 14 2019, 6:00 - 7:30 PM ET
Hear from internationally recognized Science Illustrator Shiz Aoki and Science Writer Jovana Drinjakovic as they delve into what it's like navigating a career in this field. Grab a slice of pizza and stay for a networking session as we explore opportunities emerging in science communication.