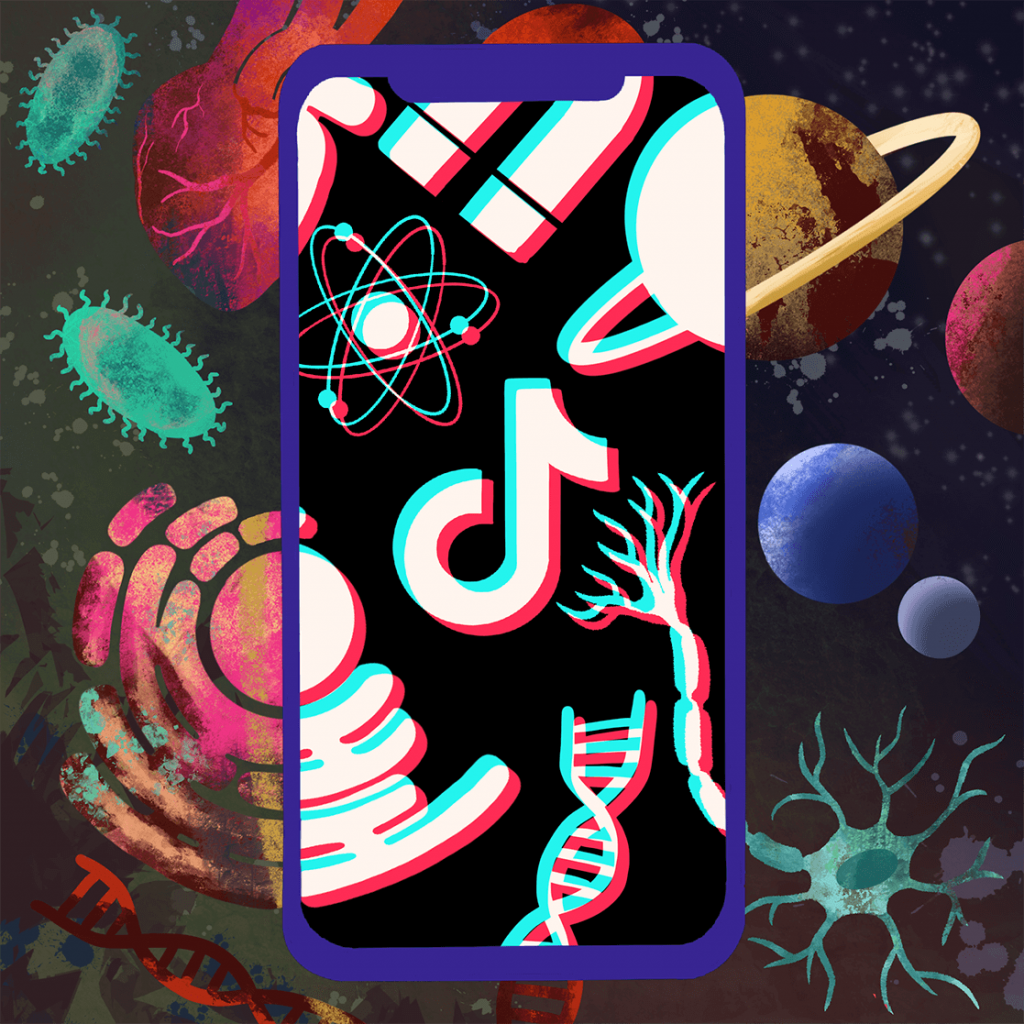 Written by Ava Harrington
Illustrated by Yik Lok Wong
---
With more than one billion users, TikTok has become one of the widest-reaching social media platforms worldwide. Like many other communities, science has found its home in the app where millions of viewers watch a variety of engaging science videos from chemistry pickup lines to dissections of real human brains! Users such as @coolchemistryguy and @lab_shenanigans have garnered millions of followers through explosive experiments and mitochondria memes. Even famous faces such as Neil Degrasse Tyson (@neildegrassetyson) and Bill Nye (@billnye) have gotten in on the action, producing their own minute-long videos on astronomy, physics, biology and more. But TikTok science offers more than quick entertainment. It connects viewers to science in a way that is interesting, accessible and representative, fostering passion for science in young people.
One major benefit to TikTok science is that it makes scientific content accessible to broader audiences. TikTok users are younger than other social media users, and TikTok is the most popular social media app for Canadians under 18 years old.¹ Instead of having to seek out this content themselves, videos of nitrogen bottle rockets and flaming bubbles are brought directly to the feeds of young viewers. By engaging young viewers in this way, TikTok can inspire a new generation of scientists.
That's the goal of Brampton-born scientist and TikTokker Dr. Sarah Habibi. On her account @science.bae, Dr. Habibi posts a wide range of videos showing DNA extraction techniques, bacteria growth, and climate change issues. In one article she explains, "I'm trying to get people excited about science from a young age. I want to show that a woman who likes wearing high heels and makeup can be a scientist. There's no one way to be a scientist."² Dr. Habibi has been growing her audience since she started making videos in 2020, sharing the ups and downs of her life as a PhD student and scientist along with unique experiments and lessons for her audience.
TikTok also features a diverse group of scientists who might otherwise be underrepresented in scientific communities and conversations. Canadian drag queen and mathematician Kyne (@onlinekyne) of RuPaul's Drag Race fame creates easy-to-understand videos of complicated math topics. In her most recent video, she discusses the value of financial literacy and presents quiz questions about loans, all while dressed in high-glamour drag! Kyne works to reach a queer audience with her passion for math and STEM. In a recent article she said that, "You have this stereotype that people in the math community, people in the tech community, are very straight, so you'd think there wouldn't be very much crossover but there it is."³
TikTok science is not without its flaws. By nature of the one-minute video format, science communication can't have the same depth as a longer YouTube or Khan Academy video. The TikTok algorithm also prioritizes videos that generate higher engagement, meaning that the science videos that get especially popular are often the most attention-grabbing and not necessarily the most informative or accurate. Nevertheless, these videos on TikTok are reaching an audience that might not have looked into science on their own and show just how fun it can be!
Sources:
https://www.thestar.com/life/together/people/2021/10/24/gta-tiktok-star-is-working-to-make-science-cool.html