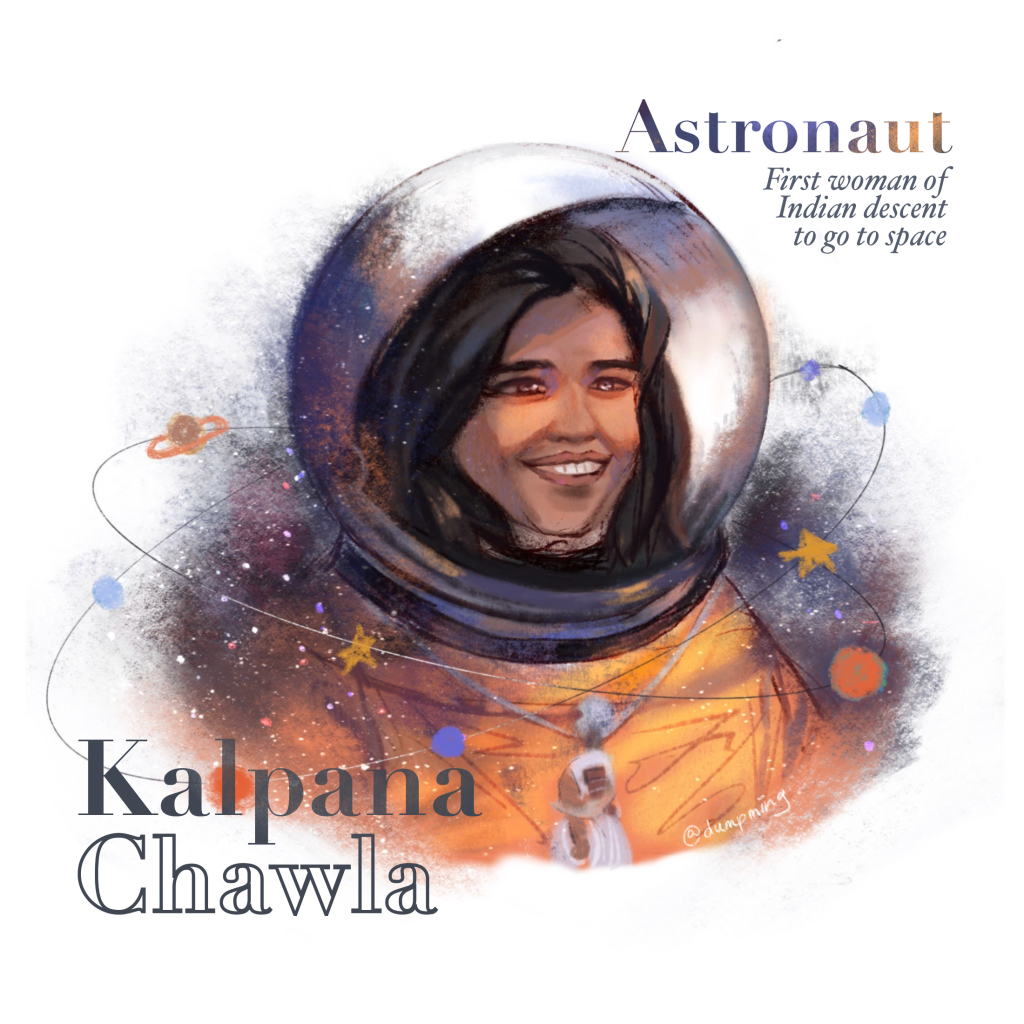 Written by Melissa Wong
Illustrated by Jenny Zhang
---
Kalpana Chawla was an Indian-born American astronaut and engineer. From a young age, Kalpana had shown a great interest in airplanes and flying and would often go plane watching with her father and join local flying clubs. As she grew up, this passion did not fade and Kalpana became a certified instructor and pilot for airplanes and gliders. She even became the first woman to earn a Bachelor of Engineering degree in Aeronautical Engineering from the Punjab Engineering College in India and would eventually become the first Indian woman to go to space.
Kalpana travelled to the United States to continue her studies where she earned a Master of Science degree in Aerospace Engineering at the University of Texas and a PhD in Aerospace Engineering at the University of Colorado, Boulder, determined to hone her knowledge. She even worked at the NASA Ames Research Center and at Overset Methods, Inc. before applying and joining the NASA Astronaut Corps in 1995 to pursue her lifelong dream.
Shortly after joining and going through a rigorous training regime, Kalpana was chosen for her first space mission on the Space Shuttle Columbia flight STS-87. A year later in 1997, she went into space, earning her the title of the first Indian-born woman to travel to space. During Kalpana's first flight, she was assigned the role of mission specialist and was the prime robotic arm operator on the flight who deployed the Spartan satellite.
A couple of years later in 2001, Kalpana would be selected for her last space mission that would lead to her unfortunate death. After two years of delays, she flew on the Space Shuttle Columbia flight STS-107 where she served as the flight engineer and mission specialist on January 16th, 2003. On the fateful day of February 1st, 2003, the space shuttle's wing broke off upon re-entering Earth's atmosphere just 16 minutes before they were due to land, causing the spacecraft to become depressurized and killing all seven crew members onboard; instead of landing at the Kennedy Space Center, the spacecraft disintegrated in the sky over Texas and landed in pieces.
This disaster and the deaths of Kalpana and the rest of her crew left people devastated. Kalpana was posthumously awarded the Congressional Space Medal Honour, an award given by the president of the United States recognizing astronauts who distinguished themselves and had incredible contributions to the welfare of the nation and to mankind. Kalpana is an inspiration for many people, particularly Indian women; Dr. Harsh Vardhan, a member of the Indian Parliament, once described her in a tweet as being an idol for every Indian, especially girls, who was "born in a conservative society, broke several traditions to become the first Indian-born Woman Astronaut in space." Kalpana did not let traditions prevent her from chasing her dreams of going into space and India renamed their first satellite launched in her honour: "Kalpana-1."
Although seventeen years have passed since the death of Kalpana Chawla, her message, "nothing is impossible for women, if they have a strong will," continues to inspire young girls everywhere.
Sources: