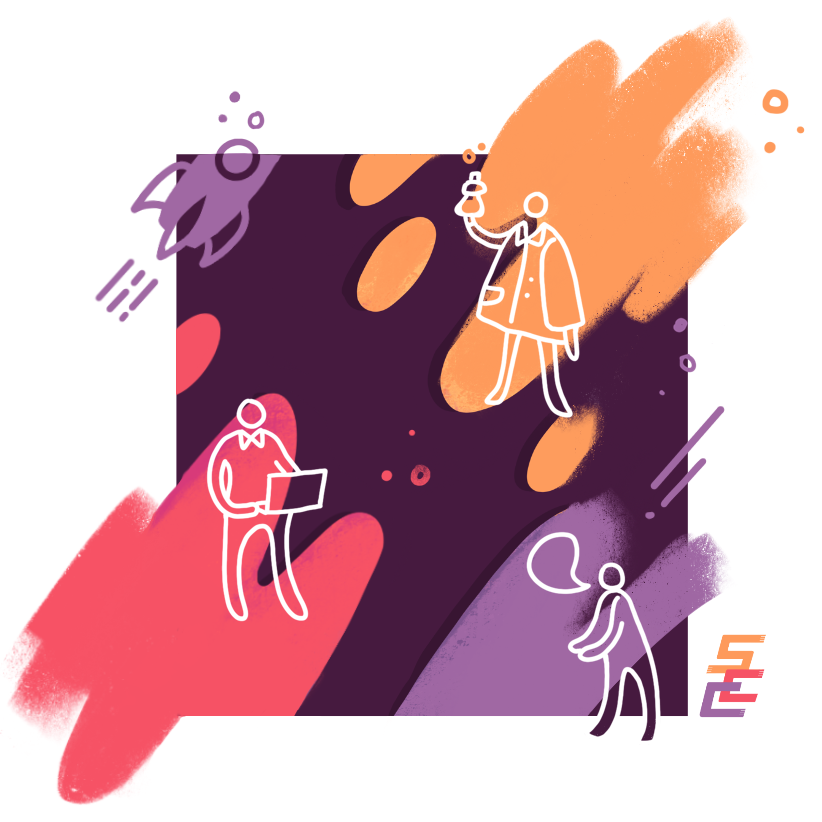 Written and illustrated by Amy Zhang
---
As you make your way through higher education, you might wonder about the different careers you can enter with a STEM degree. We invited international award-winning Science Illustrator Shiz Aoki and Science Writer Jovana Drinjakovic to speak about their experiences in the rising field of science communication.
Here is a recap of our Career Exploration event with resources provided by the speakers. A recording of the webinar can be found here.
Shiz Aoki: Learnings & Advice from 10+ Years in Medical/Scientific Illustration
Shiz is currently the co-founder and CEO of BioRender, a fast-growing startup that revolutionizes the way scientists communicate their research by giving them the tools to create beautiful, professional science figures in a fraction of the time of traditional tools. Prior to BioRender, she worked for over a decade in the field as the Lead Medical Illustrator for National Geographic and Founder of award-winning science illustration studio, Anatomize. Shiz completed her Master's in Medical and Biological Illustration at the Johns Hopkins University School of Medicine.
Shiz's Story: Distilling Complex Science Using Captivating Visuals
As a Medical Illustrator, Shiz's task is to peel away the layers of complex science, creating visuals that diverse audiences can understand. She illustrates this by showing an illustration of the pulvertaft weave, a complex surgical technique used to repair tendons in the hand. Surgeons operate under the skin, and the bloodiness of it all makes the technique difficult to detail in video recordings.
Visual communication is necessary when it comes to unraveling the complexities and captivating people with all levels of knowledge. With over 40 million in readership every month, National Geographic caters to the technical, scientifically trained audience as well as the five- and six-year-olds interested in science. Shiz started as an intern there, taking the pay cut for an opportunity to dive in and prove herself.
Science Illustration: An Iterative, (Messy) Process
She shows us just how messy the illustration process can be, with drafts and drafts of sketches, blueprints, and collaborative notes lying scattered on her desk at National Geographic. The science illustrators must get a story across the audience in only a few seconds, and Shiz shows us glimpses of that process using her team's center-fold illustration of a common octopus. Traditional art mediums (including a Sculpey clay model!) as well as digital watercolor textures were used in its making, but the real question remains: can a five-year-old as well as the world's leading expert on common octopus appreciate how it was visualized?
But scientific and surgical illustration aren't the only disciplines out there – perhaps 3D animation is where the money's really at. Pharmaceutical companies spend a large portion of their marketing dollars on visually beautiful snapshots of science. However, the reality is that not all labs can afford a medical illustrator. And there really aren't enough of them to go around – medical illustration programs produce as little as 6 students a year. With overflowing demand for scientific research figures, Shiz realized the need for a tool that could standardize how science was visually communicated.
BioRender. A new mission to give every scientist the tools and framework to visually communicate their research, in a way others can easily understand. With publication-ready graphics at a scientist's disposal, they could put together their dream illustration in just a few minutes. Launched in December 2017, the BioRender community has since grown to over 150,000 scientists, 30,000 icons and over half a million illustrations. And that's certainly not the upper limit if you consider the rising need for effective science communication by scientists all around the world.
Shiz's Advice:
Shiz emphasizes the importance of solid traditional art skills in a portfolio. A common thread in her career was:
Giving your 150-200% effort in everything.
Going deep on something you're interested in instead of skimming the surface.
Surrounding yourself with others also passionate about this field.
Getting out of your comfort zone and being willing to do things that 95% of people in the field aren't willing to do.
Working extra hours to hone your craft.
Not being afraid to ask the right questions and going the extra mile to follow up relentlessly.
Not being afraid to fail many, many times!
Resources
Shiz listed many types of SciComm positions that value a Bachelor's of Science (many of which BioRender are hiring for):
Creatives/Science Illustration:
Product Designer
Scientific/Technical Illustrator
Medical Illustrator
Editorial Animator/Video Editor
Scientific Roles:
Field Application Scientist (on-site customer experience)
Scientific Solutions Associate (perfect for those who've lived the pain of creating posters, etc. and want to improve the process)
Project Manager (application features)
Scientific Writing (Marketing/Blog)
Social Media Coordinator
Account Executive (Scientific Sales)
Sales Development Rep (Junior Sales Role)
Customer Success Manager
Instructional Designer
Full Stack Developer
Science Illustration Programs in Canada:
Science Illustration Programs in the United States:
---
Jovana Drinjakovic: Science Writing as a Career
As a publicist, Jovana writes about the science coming out of the Terrence Donnelly Centre for Cellular and Biomolecular Research (CCBR), whether it be papers published in high profile journals or awards and fellowships at the centre. These media releases are written in lay language using journalistic form and structure. If a finding is of public interest, Jovana then pitches the story to reporters and editors for news publications.
Jovana's Story:
Originally from Serbia, Jovana left during the turbulent 1990's to study biology at the University of Oxford. She recalls working summer lab internships while studying english, trying as many different things as she could. Jovana never planned on moving to North America initially, and she stayed in Europe to finish her PhD at Cambridge. However, life led Jovana and her partner to Toronto, where she completed a post-doc at SickKids.
Jovana soon realized that the physical commitments required of a researcher, such as long hours in the lab and frequent conference travel, were not compatible with family life. And so, her hunt for a communications position began. Despite all her degrees and knowledge in the sciences, Jovana didn't get anywhere with her applications. This was because institutions like universities and hospitals were looking for someone with journalism experience – someone trained to distill complex information into simple, engaging stories.
As a next step, Jovana did a fellowship in Global Journalism at U of T's Munk School (now at Dalla Lana), a program designed for specialists who wanted to become freelance journalists in their respective fields. This gave Jovana the opportunity to work with seasoned journalists and publish stories onto media platforms, ultimately building a portfolio that secured her current position at the Donnelly Centre.
Jovana's Advice:
Jovana emphasizes having a solid portfolio and prior experience in science writing and journalism. For those still in university, she recommends learning about the science as much as possible – seeking new projects, trying different methodologies, networking with scientists, building connections with professors…the list is endless. Not only will this make you a better scientist, it will also make you a better writer!
However, these supplementary programs can cost an arm and a leg (especially in the United States). It's not impossible to train on your own – blogging is a great way to get your name out there. You could write content for clubs like the SCC, university papers like the Varsity, and even your home faculty! That being said, many science writing programs incorporate opportunities like internships and placements in media rooms, which help immensely with getting your foot through the door.
Resources
The Open Notebook: a website with everything you need to know about science writing, including a database of successful pitches by professional writers
The Craft of Science Writing, Edited by Siri Carpenter
The Science Writers' Handbook, Edited by Thomas Hayden and Michelle Nijhuis
Science Writing Programs in Canada:
University of Toronto (Dalla Lana: Fellowship in Global Journalism, Graduate studies: Intro to Science Journalism)
Other Institutes: Ryerson, Concordia, Laval, Carleton, Laurentian
Science Writing Programs in the United States:
MIT: Knight Science Journalism Fellowship