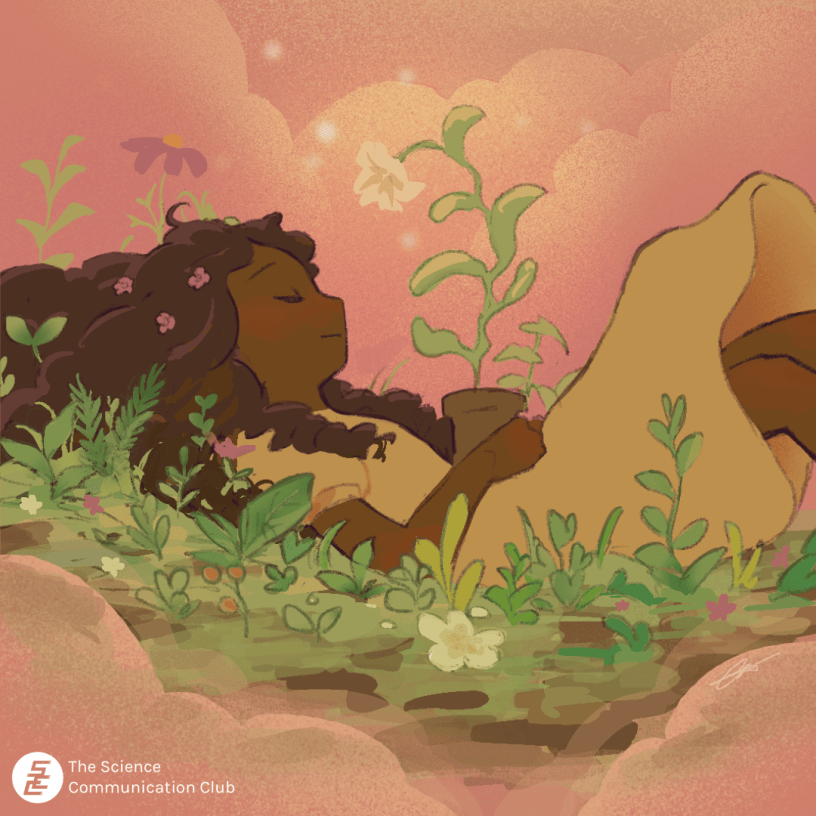 Do you enjoy taking care of plants? Then, here is some good news for you!
Your plant babies can aid you in various ways. Maybe you already know of plants that release relaxing aromas or a health-boosting spice that when consumed helps recover your body. But, even if your plants have neither of these characteristics, don't worry. Here, we will explore how any indoor plant can have various benefits to your mental health. 
Starting off with the general benefits of indoor plants on stress. A study compared the responses of university students to a plant focused physical activity versus a computer-based activity (1). Their results indicated that physically interacting with a live plant in a transplanting activity increases positive feelings of comfort, relaxation and naturalness (1). Interestingly, the authors pointed out, despite students being more accustomed to the computer task provided to them rather than the plant activity, their stress response was activated more by the computer task (1).  To explain this, the authors found that plant interactions repressed the sympathetic nervous system, quieting the body's fight or flight response to stressful situations (1).  Hence, we can see a direct connection between plants and the physiological effect on our stress response. A more recent example of this comes from studying the effect of indoor plants on mental health during the COVID-19 pandemic (2).  It turns out that the mere presence of plants in the room is not the reason behind decreased stress, rather it is the positive emotions sparked by those plants that helped people feel calmer in a long-term stressful situation such as the quarantine periods, which they termed the "plant effect" (2).  Also, interesting was the discovery that how we take care of our plant babies may affect their ability to help us. In fact, the power of the "plant effect" seems to depend on the growth status of the plants, meaning that we respond better to better growing plants (2).  As such, the authors also speculated that poorly growing or welting plants may be detrimental to our stress control (2).  
Now, let's talk about a more specialized function of plants: Aromatherapy. Aromatherapy is a method that makes use of essential oil distilled from plants to treat various conditions (3). A large review of research by Sánchez-Vidaña et al. in 2017 found that inhaling the scent of certain plants through essential oils can help improve our mood and potentially decrease clinical symptoms of depression (3).  Although the authors cautioned about the low-quality of some studies, plants with essential oils of yuzu, and a mixture of rose otto and lavender have shown significant benefits (3). 
To picture this effect, we will focus on lavender. In animal studies, it has been found that this essential oil represses the sympathetic nervous system, promoting relaxation (4).  Beyond that, lavender has effects on GABA receptors, sending an inhibitory signal to the whole brain to tone down its activity and is also the main site of action for anti-anxiety medications (4).  Hence, lavender promotes a more positive, relaxed mood by slowing activity in the nervous system of animals, and maybe humans (4).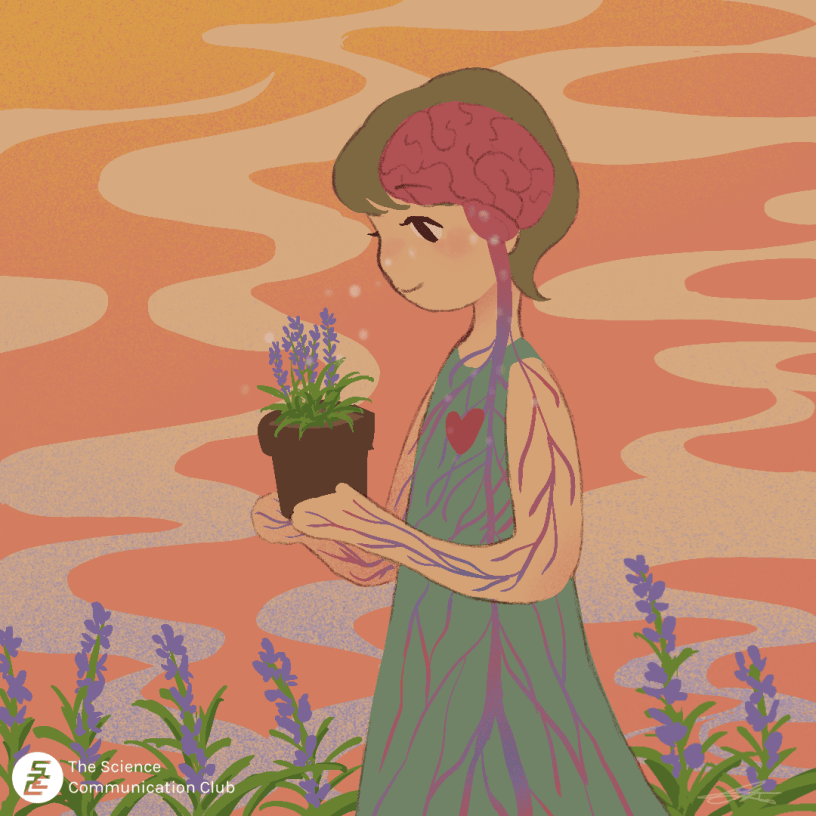 Last, but definitely not the least, spices! Not only do they add joy to your food, but they are also beneficial for our health! You may be familiar with curcumin, which comes from turmeric, is not only a mood regulator but also a tumor repressor having the ability to shut down molecules produced under mental stress conditions causing cancer tumors (5).  Especially when its ability to cross the blood brain barrier is considered, it's an amazing source to stop the growth of tumors of the nervous system (5). It was suggested that curcumin might be creating this effect by inhibiting a pathway that causes the growth of tumor cells, however more research is necessary to discover the exact mechanism (5).
Now that you know all of these benefits, you can pick your plant babies in the best combination to help yourself! Maybe you'll pick turmeric as your next plant and use its curcumin to cook, or maybe some beautiful lavender scent to help you relax after a long day…
(Needless to say, don't exclude the cuteness factor! Any plant baby is precious regardless of how it helps you!)
1. Lee M, Lee J, Park B-J, Miyazaki Y. Interaction with indoor plants may reduce psychological and physiological stress by suppressing autonomic nervous system activity in young adults: a randomized crossover study. Journal of Physiological Anthropology. 2015;34(1):21. doi:10.1186/s40101-015-0060-8
2. Liu T, He L, Yu W, Freudenreich T, Lin X. Effect of Green Plants on Individuals' Mental Stress during the COVID-19 Pandemic: A Preliminary Study. International Journal of Environmental Research and Public Health. 2022;19(20):13541. doi:10.3390/ijerph192013541
3. Sánchez-Vidaña DI, Ngai SP-C, He W, Chow JK-W, Lau BW-M, Tsang HW-H. The Effectiveness of Aromatherapy for Depressive Symptoms: A Systematic Review. Evidence-Based Complementary and Alternative Medicine. 2017;2017:1–21. doi:10.1155/2017/5869315
4. Koulivand PH, Khaleghi Ghadiri M, Gorji A. Lavender and the Nervous System. Evidence-Based Complementary and Alternative Medicine. 2013;2013:1–10. doi:10.1155/2013/681304
5. Wang P, Hao X, Li X, Yan Y, Tian W, Xiao L, Wang Z, Dong J. Curcumin inhibits adverse psychological stress-­induced proliferation and invasion of glioma cells via down-­regulating the ERK/MAPK pathway. J Cell Mol Med. 2021;25:7190–7203. doi:10.1111/jcmm.16749