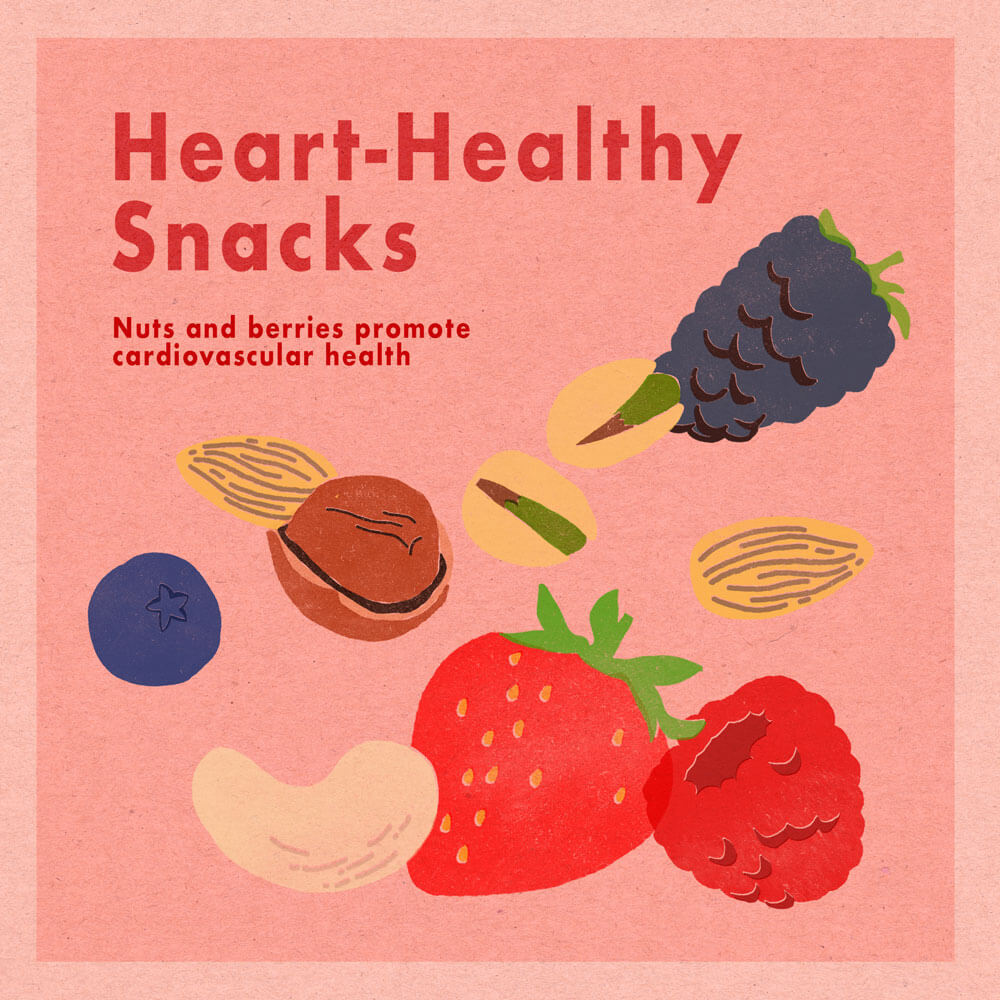 Written by Nancy Ung
Illustrated by Rebecca Michaels-Walker
---
Happy Valentine's Day science friends! Since today is all about love, let's talk about that organ forever associated with love – your heart!
Did you know heart disease is the 2nd leading cause of death among Canadians? Early detection of risk factors, or making lifestyle changes such as, staying physically active and eating a healthy diet, can reduce your risk of developing this condition. Through epidemiological and intervention studies, a team lead by Emilio Ros has found an association between nut and berry consumption with a decrease in cardiovascular disease risk.
Nuts such as almonds, hazelnuts, walnuts, pistachios, macadamias and cashews are rich in unsaturated fatty acids, fibre, folate, minerals and antioxidants.
Their anti-inflammatory properties help mitigate the effects of atherogenesis in CHD, a process of forming plaque in the arteries. In an analysis of 15,966 cohorts, nuts were also capable of causing a cholesterol-lowering effect due to their abundance in sterols. This is important because early detection of high cholesterol can greatly reduce risk of developing heart disease. In addition, nuts rich in tocopherol and phenolic compounds have been shown to help reduce oxidative DNA damage.
In contrast to nuts, berries are low-energy foods. However, due to their rich bioactive phytochemicals and vitamin C composition, they have proven to be beneficial in improving cardiovascular risk profiles. They play key roles in reduction of blood pressure, inhibition of pro-inflammatory gene expression, and improvement in oxidative status.
A long-term randomized PREDIMED trial will extend the team's analysis of nut consumption beyond cardiovascular disease and will aim to discern the mechanisms in relation to other chronic conditions such as diabetes, cancer, and neurodegenerative disorders.
With the prevalence of heart disease, it is important to recognize that lifestyle risk-factors such as unhealthy diets are within your power to control – eating right will help maintain your heart health so you can keep ~spreading the love~ for many Valentines' Days to come!
Sources:
Ros E, et al. Nuts and Berries for Heart Health. Curr Atheroscler Rep (2010), 12:397–406, Public Health Agency of Canada, Heart and Stroke