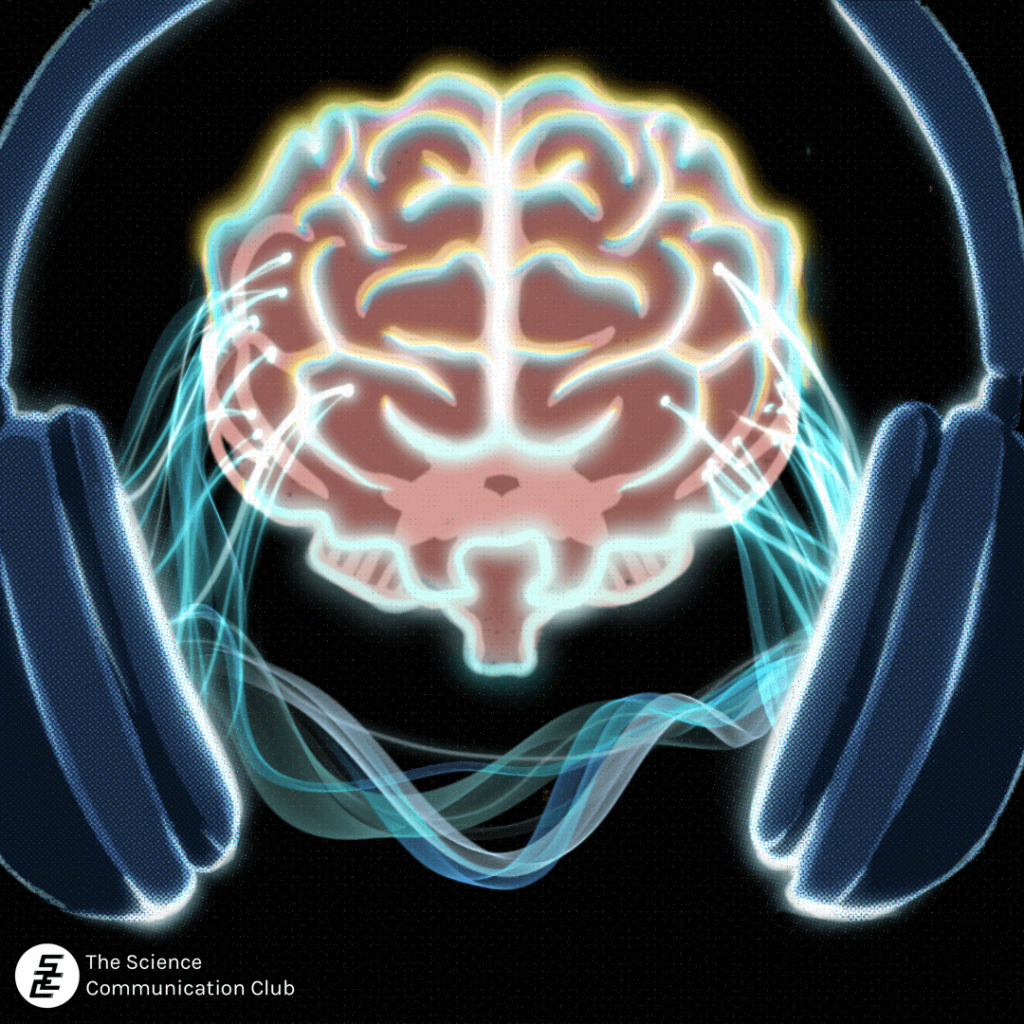 Written by Anita Mazumdar-Moscato
Illustrated by Juliet Ko
---
Whether it's the rhythmic tapping of a spoon on a plate, the clicking of a car's turn signal, or the drips of a leaking faucet, humans find a beat wherever we go. But why is it that we are so susceptible to a single note that is repeated over and over again?
HOW DO WE RECOGNIZE RHYTHM?
Rhythm is the foundation of all music, and humans have been creating music for more than 35,000 years (TSI)—so it's no wonder that we have it ingrained in our minds. Rhythm is usually defined as a musical 'pulse' that manifests in the bass line of a song as an instrument with a lower pitch (Cameron). We are able to recognize bass lines not only through our auditory systems, but our vibrotactile (sensing vibration through touch) and vestibular (perception of body position and movement) systems as well (Ibid.) This is linked to the evolutionary journey of the human central nervous system, a system that was built around biological rhythm, from the beating of our hearts to the cyclical rhythm of breathing (Benoit et al.) Even if you consider yourself a horrible dancer, you can take solace in the fact that we all have the ability to catch onto rhythm—it's in our blood.
HOW DO WE REACT TO RHYTHM?
Low-pitched instruments are used to create the bass in songs to take advantage of our neurophysiological reaction to low-frequency sounds. The lower frequency sounds create neural 'rhythm patterns' that help lock our minds in to the beat and keep us engaged with the song (Lenc). Studies have found that low pitches are advantageous in increasing our timing in perception and movement, and trigger stronger neural responses in comparison to notes of higher pitch (Cameron).
Rhythm is not just an essential part of musical compositions; it's also considered an important organisational tool in brain functions (Lenc)—as mentioned before, in relation to our evolutionary history—which may explain why our minds are wired to recognize and react to it in even the most tuneless scenarios. As low-frequency sounds also trigger non-auditory systems—such as our vibrotactile and vestibular systems—they increase both our ability to recognize the rhythm of the song as well as our need to move to the beat (Cameron).
So the next time you wrinkle your nose at your friend who exclaims that EDM is their favourite genre, take a second to consider why they might be so attracted to the UNTS-UNTS-UNTS beats of Skrillex and Marshmello, and try it out for yourself! You might find that you start moving to the beat too.
Sources